The Swedish national team walked away from the 2021 World Orienteering Championships, held in the Czech Republic, with no less than 7 gold and 1 silver medals! Female star Tove Alexandersson managed to become the first athlete ever to claim the gold in every discipline; sprint, sprint relay, middle distance, long distance and relay, despite limited time for recovery between races. Behind Alexandersson, several Swedish athletes performed at an extraordinary level, with an unexpected gold to 23-year old Isac von Krusenstierna in the sprint and solid team efforts during the relays.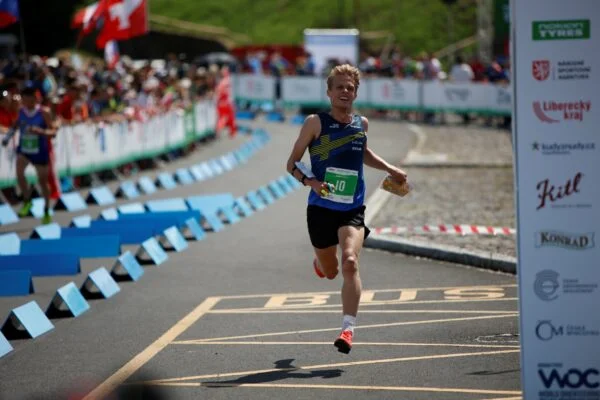 Isac von Krusenstierna (SWE), Nokian Tyres World Orienteering Championships
Sprint Gold Medallist (photo: WOC 2021)
Team captain and head coach Håkan Carlsson was astonished by the performances: "I almost can't believe it is true. The performance level of the entire team has stepped up to the next level and we nailed every single detail in the preparation leading up to the championships." When asked what the magic ingredient is, Carlsson is not sure: "In the end it is the runner who has to perform on race day, but overall it is a team effort. The runners are extremely professional in their preparations and are pushing each other to the next level every day. To perform at this level, training, nutrition, sleep, technical and mental preparations have to be meticulously analysed and adjusted to individual needs."
The national team has worked with svexa technology over the last three years, and svexa CSO Filip Larsen has been responsible for several projects related to training, recovery and nutrition.
"We were one of the first national teams in the world to use continuous glucose monitors to track energy levels during training and recovery, and could thereby adjust energy levels if needed. More importantly, we have found subtle changes in blood glucose both during intense training sessions and while sleeping that could indicate if the athlete is overtraining",
Larsen says. He continues
"rather than training as hard as possible all the time, world-class athletes need to control the training intensity and volume on an almost scientific level. We do that using lactate and glucose monitors while tracking changes in athletes sleep patterns, heart rate and subjective ratings of well-being. By combining data streams from several hardware sources and looking at individual patterns of change over time, we can pick up tiny signals indicating that the athlete have margin to push themselves even harder or that they need to back off for a while. It is a balancing game between optimal training and overtraining every day."
At SVEXA, we believe that access to technology and sports science insights should be available not just to elite athletes, but to anyone that is keen on gaining a better understanding of their recovery and performance. If you'd like to hear more about how our Athlete Advisor and other tools can help your athletes train, recover, and perform better then
Contact Us now