Here at svexa many of our team combine their work in our product or analytical teams with their ongoing sports training and competition at the elite level. Software analyst Emil Blomberg recently won the title to become Swedish Champion at the 3,000m Steeplechase.
On the last lap there were four runners out front, dropping to three as Axel Djurberg tired. Near the end of the race Emil was side by side with fellow Olympian Vidar Johansson, but from the last obstacle he was able to pull away to victory in 8m55.57s. As Emil said, "I have quite a few silvers from the championships, so it was great to get gold!"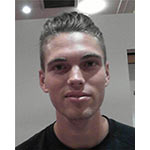 Emil is an elite runner focusing on distances from 1500m to 5000m. The steeplechase is his main event – he is representing Sweden in the current European Championships in Munich. In addition to his sporting prowess, Emil is an accomplished software analyst. He studied physics and ran on a scholarship for University of Texas Arlington, then was one of the first team members in the analytics department at Tryggkredit AB. He is working alongside Johan Rogestedt on svexa's Ellida and other products.